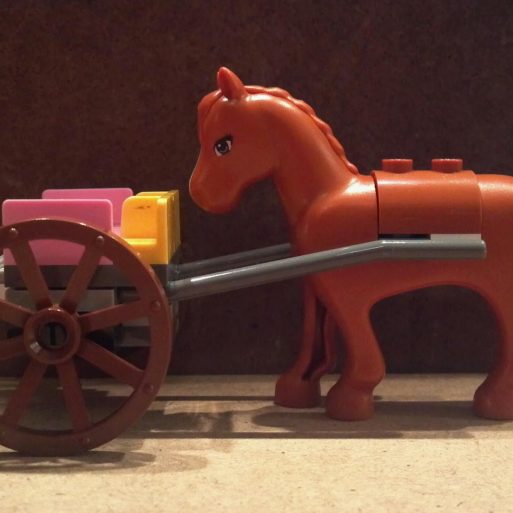 I can do it myself--why should I hire a management company?
The other day I got a call from a gentleman who stated that we have a pretty sweet deal, he stated that property managers can't be in the house all the time with tenants so really all they do is just take a portion of the rent and that is our job.
Paramount Property Management has been in business for 10 years. There has never been a property where all we did was just take a portion of rent. A solid manager knows your property and sees it regularly. They know your name, your tenants' and even pets' names at the property.
A good property management company should do the following:
Routine exterior inspections
Regular interior inspections
Tenants screening
Marketing following Fair Housing Guidelines
Tenant screening of criminal, credit, landlord history, employment verification.
Pet screening
Provide vendors for cleaning, repairs, maintenance that meet proper licensing laws.
Act as a representative for you in tenant communications
Sign leases, contract lease renewals
Hold tenants to lease requirements
Provide documentation as well as work with attorneys as needed for court an legal disputes .
Collect rent
Pay bills
Record, report and analyze your investment income and expenses
Proved 24 hour emergency support for property emergencies
A bit ago, I had a property owner call me and they were very upset. They had decided that when they moved out of state they would just handle the rental for themselves and save the management cost each month. They posted an ad in craigslist and found what they thought was a wonderful tenant. They had the applicant fill out an application and ran a background check online. The tenant had a criminal past, and explained the past credit issues. They decided to give the applicant a chance. With in a few months the tenant had moved in unauthorized family with a criminal record, stopped paying rent, stopped watering the lawn and did not allow access to the home.
The property owner called us and said they could not make it back to the state to start the eviction process and needed a management company to post the eviction notices and help prepare the property for another tenant.
The owner stated the tenant had been warned they could be evicted. They stopped paying rent for three months and was no longer taking the landlords phone calls. Here are the pictures of what the tenant did at the property.
The tenant broke several of the doors at the property.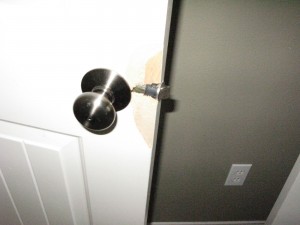 The tenant had shut off the power and water weeks in advance and purposefully left items in the fridge and microwave resulting in a very strong odor throughout the home.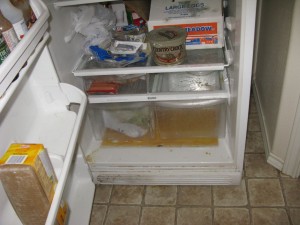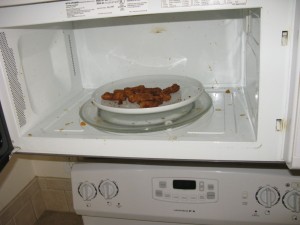 The tenant continued to use the home's plumbing facilities without water resulting in the following mess and damages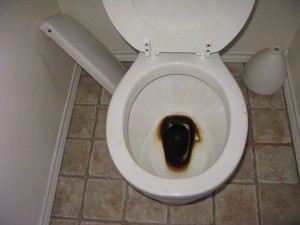 The tenant had stopped watering the lawn resulting in a very unhappy Home Owners Association and neighbors.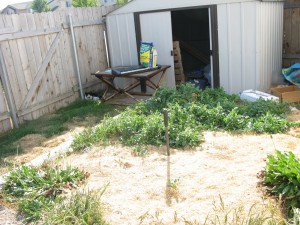 They spilled items on the carpet and had pet stains that showed no effort to remove any spills.
We were able to go in, clean and repair the home and provide lawn care to fix all the damages done. The owners paid all the costs out of pocket after not having 3 months rent. The result was over $7,000 in damages. The tenant was sent to collections, but had been sent to jail and has not yet been released so no funds have been recovered.
How could a property manager have helped?
Proper tenant screening would have eliminated this tenant from ever moving in.
Regular exterior inspections would have caught the lawn issues prior to the lawn dying
Once a tenant does not pay rent a management company would start charging late fees and posting notices and pursing eviction as an option.
A management company would have been able to inspect the interior prior to it sitting for three months without rent.
The management company would have received notice that utilities had been shut off and avoided home lawn damages from this lack of water.
A management company could pursue and eviction and collections with the tenant balance prior to the tenant having three months to cause more damages.
The home owner was so distraught. They stated they had trusted someone and rented using their heart and felt they had made a very damaging business decision. They were relieved to have help and monitoring and management for the remaining time they have the property as a rental. They were given solid tenants moving forward, but still had lost quite a bit of money to keep their investment running. Although there is no one that can 100% of the time keep a property from damages, a good management company will reduce to your chances of a bad renter. Many in the industry refer to the bad tenants as "professional tenants": they target homes managed by owners instead of management companies, knowing they can get free rent for longer.
Many people do manage their own properties successfully, but they do devote several hours each week to the process and learn all the state laws for landlords as well as Fair Housing requirements. For those who do not want to take on a career in Real Estate Management, the best option to protect their investment is hiring a good company to do the leg work. It is still their property, they make repair decisions, decide when to sell and dictate types of pets and utilities offered to tenants. Having a team of people working to help them saves them in the long run.